.
Japan mulls safety certificate for seafood: report

by Staff Writers

Tokyo April 27, 2011

Japan is considering issuing safety certificates for its seafood exports, in a bid to ease foreign fears over radiation contamination, a report said Wednesday. Japan is working with its top trade partner China on the certificate in an effort to persuade Beijing to relax rules on Japanese seafood products, the Nikkei said. Some 35 countries and regions have imposed restrictions on Japanese farm products, as the crippled Fukushima daiichi nuclear power plant continues to contaminate the environment, the Nikkei said. China, the second largest importer of Japanese seafood after Hong Kong, has banned food imports from Fukushima and the surrounding areas and is asking for safety certificates from Tokyo on food products from other regions, the Nikkei said.
Share This Article With Planet Earth
Related Links
Water News - Science, Technology and Politics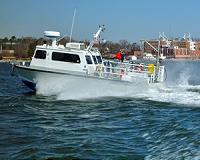 VIMS study shows propeller turbulence may affect marine food webs
Gloucester Point, VA (SPX) Apr 27, 2011

A new study by researchers at the Virginia Institute of Marine Science shows that turbulence from boat propellers can and does kill large numbers of copepods-tiny crustaceans that are an important part of marine food webs. The study-by VIMS graduate student Samantha Bickel, VIMS professor Kam Tang, and Hampton University undergraduate Joseph Malloy Hammond-appears in the on-line issue of t ... read more

.