.
Smoke, steam rise from Japan nuclear plant: Kyodo

by Staff Writers

Osaka, Japan (AFP) March 22, 2011

Smoke and steam again rose from damaged reactors on Tuesday at Japan's quake-hit Fukushima nuclear power plant, where workers have battled to avert a large-scale disaster, Kyodo News reported.

White steam-like vapour was seen rising from the number two reactor and what looked like white hazy smoke from the number three reactor, Kyodo said, adding that efforts to spray water and restore electricity had temporarily stalled.
Share This Article With Planet Earth
Related Links
Bringing Order To A World Of Disasters
A world of storm and tempest
When the Earth Quakes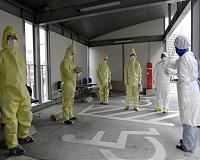 Smoke slows race to cool Japan nuclear plant
Kitakami, Japan (AFP) March 22, 2011

Smoke belched from a stricken nuclear plant in Japan on Monday, disrupting urgent efforts to repair the cooling systems as Tokyo halted some food shipments owing to radiation worries. Rain meanwhile complicated rescue efforts and compounded the misery of tsunami survivors fearful of dangerous radioactive leaks from the wrecked Fukushima power station, which has suffered a series of explosion ... read more

.