AIM Heads For Orbit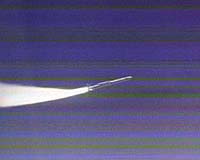 The Pegasus rocket ignites to launch the AIM spacecraft into orbit. Photo credit: NASA
by Staff Writers

Vandenberg AFB CA (SPX) Apr 26, 2007

NASA's AIM spacecraft is beginning its two-year mission after a flawless ride to Earth orbit aboard an Orbital Sciences Pegasus XL rocket. Launch took place at 1:26 PDT. Launch operations at Vandenberg Air Force Base in California ran smoothly today, with no technical or weather issues causing concern.

The AIM mission is the first dedicated to exploring mysterious ice clouds that dot the edge of space in Earth's polar regions. These clouds have grown brighter and more prevalent in recent years and some scientists suggest that changes in these clouds may be the result of climate change.
Email This Article
Related Links
The Air We Breathe at TerraDaily.com


Satellites Offer Sunny Outlook On Understanding Polar Climate With Help Of Cloudy Skies

Greenbelt MD (SPX) Apr 25, 2007

Far beyond signaling the day's weather, clouds play a key role in regulating and understanding climate. A team of researchers recently completed a project to confirm what NASA satellites are telling us about how changes in clouds can affect climate in the coldest regions on Earth.