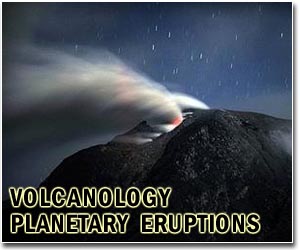 Study: Tremors can signal volcano eruption
New Haven, Conn. (UPI) Feb 23, 2011 - U.S. and Canadian scientists say volcanoes produce distinctive tremors minutes, days or even weeks before they erupt, making prediction of events possible. Researchers at Yale University, along with colleagues at the University of British Columbia, said no matter their size or shape, explosive volcanoes produce tremors at similar frequencies, a Yale release said Wednesday. Prior to most explosive eruptions the volcanoes shake slightly but measurably, and the shaking becomes more dramatic during the eruption itself and is a primary precursor used by vulcanologists for forecasting an eruption. "Tremor is very mysterious, most notably because it shakes at pretty much the same frequency in almost every explosive volcano, whether it's in Alaska, the Caribbean, New Zealand or Central America," Yale geology professor David Bercovici said.

"That it's so universal is very weird because volcanoes are so different in size and character," he said. "It would be like blowing on five different musical wind instruments and having them all sound the same." Tremors in nearly all volcanoes stay in a narrow band of frequencies from about 0.5 to 2 hertz, then just before and during the eruption the frequency climbs to a higher pitch, between 0.5 and 7 hertz, researchers say. Bercovici and colleague Mark Jellinek at UBC suggest these similarities can be explained by "magma wagging," or the rattling that occurs from the interaction of rising magma and the foamy jacket of gas that surrounds it. The factors that control this rattling or wagging vary little between volcanoes, which explains why the same tremors occur in very different volcanoes, they said. "This model will provide a much-needed framework for understanding the physics of tremors, and this can only help with the prediction and forecasting of destructive eruptions," Bercovici said.
Philippine health authorities handed out face masks to thousands of residents around an erupting volcano on Wednesday after a child died of an asthma attack blamed on falling ash, officials said.

Bulusan volcano spewed a huge ash column on Monday, sending thousands of people fleeing their homes. More than 700 remained at evacuation centres Wednesday awaiting advice on when it is safe to return, aid officials said.

The National Disaster Risk Reduction and Management Council said it handed out some 6,000 dust masks to residents of Irosin, one of three towns affected by the ashfall, including nearly 500 people at an evacuation centre there.

The health ministry meanwhile distributed face masks in the nearby town of Bulan, where a two-year-old boy died from an asthma attack aggravated by ashfalls caused by the eruption, it said in a statement.

Government doctors are checking the medical condition of people in affected areas, it added.

Volcanic ash can cause nose, throat, eye and skin irritation as well as contaminate tap water, while prolonged exposure can cause lung disease, according to the health ministry.

Government volcanologists said they had recorded one volcanic quake in the 1,559-metre (5,115-foot) volcano in the past 24 hours, but thick clouds hampered visual observations of further steam and ash emissions.

The government said human activity has been banned within four kilometres (2.5 miles) of its crater as a precaution.

Bulusan is among 23 active volcanoes in the Philippines, which is located in the so-called Ring of Fire of volcanic activity around the Pacific.

Bulusan, 360 kilometres southeast of Manila, last erupted between March and June of 2006.

The volcano also shot ash into the air in November last year, forcing hundreds of people to evacuate their homes.

However volcanologists said this was not an eruption, but heated ash deposits near the crater mouth that exploded and burst out on contact with rainwater.