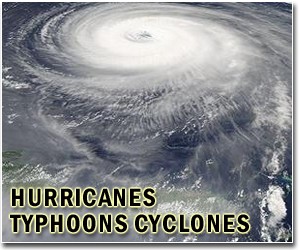 earlier related report
Tropical Storm Frank gathers strength, soaks south Mexico
Oaxaca, Mexico (AFP) Aug 24, 2010 - Tropical Storm Frank soaked Mexico's southern Pacific coast Tuesday, flooding houses, causing landslides and picking up strength as it headed back out toward the ocean.

The storm churned at around 145 miles (230 kilometers) southwest of the beach resort of Acapulco, with winds gusting up to 65 miles per hour, at 8:00 am (1300 GMT), according to the US National Hurricane Center.

Mexico's weather service said Frank could turn into a hurricane by midnight Tuesday, but that it was heading away from the shore.

The storm caused material damage in more than 100 towns as it swept over southeastern Oaxaca state, where classes were suspended in coastal areas, authorities said.

It provoked landslides and damaged roads and bridges in several rural communities, said Carlos Ramos, director of Oaxaca's Civil Protection Institute.

Authorities evacuated at least 3,000 people in Oaxaca, and several thousand more in the neighboring state of Veracruz, where rivers burst their banks.
Hurricane Danielle -- the second of the 2010 Atlantic season -- strengthened far out over the ocean early Tuesday with winds reaching sustained speeds of 100 miles (160 kilometers) per hour.

The hurricane reached Category 2 status on the Saffir-Simpson 1-to-5 scale, and with additional strengthening forecast, "Danielle could become a major (Category 3) hurricane by early Wednesday," the US National Hurricane Center reported in an advisory.

Danielle was churning westward at about 20 miles per hour, and was some 1,100 miles east of the Lesser Antilles shortly before 0900 GMT, the NHC said. There were no current threats to land.

The hurricane was forecast to turn to the northwest by Wednesday, passing east of Bermuda at the weekend but still potentially threatening the island chain.

Meteorological models show the cyclone missing the US East Coast, but possibly threatening the Canadian coast to the north by next week.

Experts are also keeping an eye on a second weather system behind Danielle -- a well-organized tropical depression south of the Cape Verde islands which the NHC says has a 70 percent chance of forming a tropical cyclone.

The first hurricane of the Atlantic season was Alex, which left one person dead in northern Mexico and disrupted oil clean up efforts in the Gulf of Mexico before being downgraded to a tropical storm June 30.

Forecasters are also tracking Tropical Storm Frank, a Pacific storm expected to bring high winds and rains to Mexico's western coast.

At 0900 GMT the weather system was some 130 miles southwest of Acapulco, packing winds of 50 miles per hour.