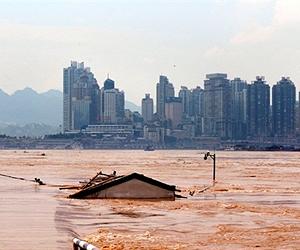 This photo taken on July 20, 2010 shows a view of the floodwaters in southwest China's Chongqing municipality, after torrential rains hit areas contributing to the Yangtze River. Thirteen people were missing after a landslide on July 20 in southwestern China, where flooding caused by relentless torrential rains has triggered a series of deadly disasters, state media said.Rivers throughout rain-hit regions have risen to or beyond their warning levels, flooding numerous towns and cities.

China warns of more rain in flood-hit areas
Beijing (AFP) July 25, 2010 - Chinese authorities warned Sunday of more rain in some areas hit by floods that have left at least 1,100 people dead or missing this year, as water levels in key rivers were set to rise again. The Asian nation is grappling with its worst flooding in a decade, with its Yangtze River dangerously swollen as summer downpours continue to hit southern parts of the country. The National Meteorological Centre warned Sunday that parts of the badly hit southwestern province of Sichuan -- where 100,000 people have been evacuated from their homes in recent days -- would continue to see torrential downpours. Other areas such neighbouring Yunnan, as well as the eastern provinces of Zhejiang and Fujian, would also see heavy rain, it added.

The nation's flood control headquarters predicted that falling water levels in the reservoir of the huge Three Gorges Dam would start rising again on Sunday, as would water upstream of the Yangtze River. Water levels on the Huaihe River, China's third longest waterway, had also risen above warning levels after heavy rain, the official Xinhua news agency said. Premier Wen Jiabao warned on Saturday that the situation was at a "crucial stage," adding there could be worse to come as he toured the flood-hit central province of Hubei, wading knee-deep in Yangtze floodwaters. State television broadcast dramatic images of relief efforts across the nation, with rescuers struggling to get people across stretches of rushing, muddy water, and diggers moving earth to try to mend several river breaches. In Sichuan, rain-triggered floods and landslides have already killed 13 people and left another 20 missing since Thursday, Xinhua reported. In one township, for example, rain fell continuously for 10 hours, triggering floods that swamped all single-storey houses. Roads leading into the town were cut off, as were power supplies and communications, Xinhua said.

Thousands of people had to evacuate their homes and were sleeping in warehouses and tents on higher ground, it added. In neighbouring Shaanxi province, more than 700 workers were repairing a collapsed dyke on the swollen Qianhe River, which was threatening a railway bridge, Xinhua said. Recent rains there have killed 100 people since July 14, according to the official China News Service. In Hubei's Yichang city, meanwhile, six people died and another eight were missing in a landslide. The flooding, mostly in the southern half of the country, has caused economic losses of at least 22 billion dollars and affected 120 million people, the government has said. It has triggered fears of a repeat of disastrous Yangtze floods in 1998, the country's worst in recent memory, which killed more than 4,000 people and forced the evacuation of 18 million.
China, already reeling from deadly floods, braced Friday for a potential new deluge on the Yangtze downstream from the huge Three Gorges Dam as its reservoir's level hit a high for the year.

The warnings came as officials sought to dampen expectations that the dam could completely tame the swelling river amid the worst flooding in a decade, which has left more than 1,100 people dead or missing.

The Three Gorges reservoir's water level reached its highest point in this year's floods, the water resources ministry said, adding it hit the dam's 158.8-metre mark Friday. State press reports put its maximum at 175 metres.

Huge amounts of water continued to thunder out of its massive spill-gates and the government of Jiangxi said the hard-hit eastern province downstream was at a "critical juncture" in flood control.

It ordered authorities to redouble flood prevention work along dozens of lakes and rivers already swollen by weeks of heavy rains.

"Over the next 20 to 30 days, the high water level of the Yangtze River's Jiujiang section and Poyang Lake will continue. The flood situation is very grim," the provincial government said in a statement.

Poyang Lake, China's largest freshwater lake and linked to the Yangtze, is one of hundreds of major Chinese lakes and rivers whose water levels have exceeded their danger marks. Jiujiang is a city of about five million people.

Authorities elsewhere in the region issued similar warnings.

The state flood control authority said the toll from this year's floods had risen to 742 dead and 367 missing.

Vice Water Resources Minister Liu Ning this week called the Three Gorges Dam -- the world's largest hydroelectric project -- a "pillar" against new floods, but other officials began to emphasise its limits.

"The Three Gorges Dam is not a panacea," Wei Shanzhong, deputy director of the Yangtze River Water Resources Commission, was quoted Friday by state media as saying.

He said authorities faced a delicate task in coming weeks in emptying the rising reservoir as fast as possible without triggering disastrous floods in already waterlogged communities downstream.

The flooding has triggered fears of a repeat of disastrous 1998 floods that were the country's worst in recent memory.

Twelve years ago record rains swelled the Yangtze, China's longest river, and many tributaries, causing floods that killed at least 4,150 people and forced the evacuation of 18 million.

This year, heavy rain initially caused widespread flooding in eastern and southern China, roughly centred on the Yangtze. But the rains recently shifted to the river's upper reaches, threatening a new flood crest downstream.

Heavy rains upstream had raised the amount of water pouring into the Yangtze to 70,000 cubic metres per second, the government has said -- 10,000 cubic metres more than the peak seen in the 1998 floods.

The output at the dam's spill-gates has risen sharply from 25,000 cubic metres per second in recent weeks to 40,000 cubic metres.

The Hubei provincial government said several flood-hit areas had been put on "super-alert" in anticipation of increased water flow. It added that the large Danjiangkou reservoir had reached its flood-control maximum.

However, state television said the flood crest had poured on Friday through Hubei's Dongting Lake without incident. The lake is one of China's largest and also has swelled to warning levels.