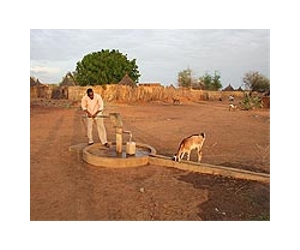 More deaths from unsafe water than from war: UN
United Nations (AFP) March 22, 2010 - More people die from unsafe water that from all forms of violence, including war, UN chief Ban Ki-moon said Monday in a message to mark World Water Day. "These deaths are an affront to our common humanity, and undermine the efforts of many countries to achieve their development potential," the UN boss added. "Day after day, we pour millions of tons of untreated sewage and industrial and agricultural wastes into the world's water systems," he said, noting that clean water has become scarce and would be even scarcer as a result of climate change. The theme of this year's World Water Day, "Clean Water for a Healthy World," highlights the fact that both the quality and the quantity of water resources are at risk.

Ban stressed that the world has the know-how to solve the challenge and urged nations to "become better stewards of our water resources." The issue was also discussed at a high-level interactive dialogue of the UN General Assembly here Monday. "Without water, there will be no prospects for achieving all MDGs (Millennium Development Goals)," UN under secretary general for economic and social affairs Sha Zukang told the gathering. At a 2000 summit here, world leaders set a 2015 deadline for achieving key poverty-reduction millenium development goals. These include eradicating extreme poverty and hunger, achieving universal primary education, empowering women, reducing child mortality, improving maternal health, combating HIV/AIDS, malaria and other diseases and ensuring environmental sustainability.
More than 155 million people, or 39 percent of the population in West and Central Africa, do not have access to potable water, the UN's children's agency UNICEF said Monday on World Water Day.

This region has the lowest coverage of potable water in the world, housing 18 percent of the world's population with no access to drinking water.

"Five years to the 2015 deadline for the achievement of the Millennium Development Goals (MDG), the water and sanitation situation in West and Central Africa remains a major concern," UNICEF said in a statement.

According to the organisation only eight of 24 countries in the region are on track to meet water target goals -- Benin, Burkina Faso, Cameroon, Cap Verde, Gabon, Ghana, Guinea et Mali)

"The total number of people in the region without access to improved drinking-water sources actually increased over the 1990-2008 period from 126 million people to 155 million."

This means that despite an improvement in coverage from 49 percent in 1990 to 61 percent in 2008 -- countries needed to reach 75 percent by 2015.

"More than 155 million people (39 percent) were without access to improved drinking-water sources in 2008 and the small pace of increase failed to keep pace with the expanding population in the region," read the statement.

Six countries have less than 50 percent drinking water coverage: Chad, Democratic Republic of the Congo, Equatorial Guinea, Niger, Mauritania and Sierra Leone

Also of concern is the fact that 291 million people in West and Central Africa have access to no sanitation at all - in the region with the highest under-five mortality rate of all developing regions at 169 child deaths per 1,000 live births.