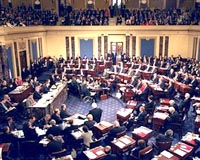 Key lawmaker: US not to blame if climate talks fail
Washington (AFP) Nov 17, 2009 - A key US senator on Tuesday rejected any attempt to pin a lack of breakthroughs at next month's global climate change talks in Denmark on a lack of US leadership on the issue. "You mean it's not the failure of the People's Assembly in China or the Parliament of India to pass laws cutting down on CO2 (carbon dioxide), it's only America's fault, blame America first?" said Republican Charles Grassley. Grassley, the top Republican on the Senate Finance Committee, criticized unnamed countries that "accept our leadership on CO2, but ignore our leadership on Iran, our leadership on North Korea, ignore our leadership on Afghanistan?" "You know, you can't have it both ways. Other countries can't have it both ways," he said in a regular conference call with media from his home state of Iowa, according to a transcript of the discussion.

Grassley also said he "would not be satisfied" with any climate change agreement that treats the United States differently than China or India. "China's putting more CO2 into the air, and I wouldn't be satisfied if China's not treated like the United States because what good does it do for the United States to clean up CO2? It's not going to make an impact unless China and India (are) involved as well," he said. Grassley also had tough words for lawmakers and President Barack Obama who have called for the US Congress to pass sweeping legislation to battle climate change in order to build momentum ahead of the December 7-18 global talks. "If the rest of the world doesn't follow along then we're going to ruin our economy," he said. "Maybe they don't care." At the same time, he said, "there seems to be no feeling that anything solid's going to come out of Copenhagen, except a political statement" broadly recommitting to a "worldwide agreement" on cutting carbon emissions.
The US Senate will act in early 2010 on legislation to battle climate change, Democratic Senate Majority Leader Harry Reid said Tuesday, ending hopes of a breakthrough by next month's global talks.

"We are going to try to do that sometime in the spring," Reid told reporters, with a White House-backed push to remake US health care still dominating the Senate agenda just weeks before the congressional session ends.

The decision confirms that the US Congress will not adopt legislation to combat climate change before the December 7-18 global climate change talks in Denmark's capital Copenhagen.

It also pushes what is likely to be a bitter debate to a mid-term election year, potentially making it harder to corral some of the swing-vote Senators needed to ensure passage of the bill.

The US House bill calls for cutting US greenhouse gas emissions by 17 percent from 2005 levels by 2020 and by 83 percent by 2050. The Senate's slightly more ambitious bill calls for a 20-percent cut by 2020.

Both bills would create a cap-and-trade regime, the government would set the total level of domestic emissions allowable and then allocate quotas to companies.

Firms that emit less than their quota would be allowed to sell their surplus allocation to others that exceed theirs. Those in excess could also face fines.

The Senate text -- which is likely to change considerably before a final vote -- also makes a push for nuclear energy research and training, and promotes natural gas as a clean energy source.