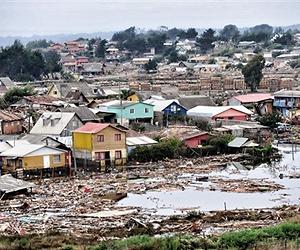 Some N.Z. quake dead may not be identified: police
Christchurch, New Zealand (AFP) Feb 27, 2011 - The charred corpses of earthquake victims pulled from a Christchurch office block where scores of foreign students are missing may never be identified, New Zealand police warned Sunday. The Canterbury Television (CTV) building in downtown Christchurch was engulfed in flames after collapsing in Tuesday's 6.3-magnitude quake, presenting a major challenge in identifying victims, police said. District commander Dave Cliff said DNA testing could put names to some of the bodies recovered from the building, which housed an English language school, but it was possible some would never be identified.

"Where there is intense fire, like there was at the CTV site, it presents real difficulties," he told reporters. "I don't want to pre-empt what will happen, but we need to brace ourselves that that possibility does exist. We're not at that point yet, but it presents a risk." More than 60 students and staff from King's Education remain unaccounted for after the quake, which killed at least 146 people, including citizens from Japan, China, the Philippines, Thailand and Korea.
Chilean President Sebastian Pinera vowed Saturday to stand by victims of the massive earthquake and tsunami that struck one year ago this weekend, but civic organizations protested the slow reconstruction.

An 8.8 magnitude earthquake and tsunami on February 27, 2010, in central Chile killed 524 people, caused $30 billion dollars in damage and led to an inquiry over the lack of a timely tsunami warning.

"You haven't been on your own, you're not going to be on your own and our government is committed utterly and completely to rebuild stone by stone, brick by brick everything destroyed by the earthquake and tsunami," Pinera said from Tumbes, a fishing cove damaged last year.

Chile on Sunday plans to commemorate the anniversary with a vigil in the town of Cobquecura -- at the epicenter of the quake.

But in Concepcion, 500 kilometers (310 miles) south of Santiago, more than 2,000 people protested against the slow pace of reconstruction.

More than 4,000 families still live in 100 temporary villages that sprung up after the quake. Inhabitants still lack water and some basic services.

Some people have installed satellite dishes, and others planted flowers as they wait for government subsidies to obtain permanent housing.

Official figures show that the government has paid out 61 percent of the amount it promised in compensation for the damage or destruction of 220,000 homes. The government says 50,000 homes are now being built.

"Reconstruction is advancing at a good pace. We've advanced significantly," Pinera said at a recent meeting with foreign journalists.