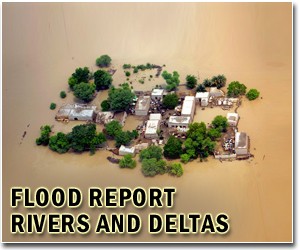 12 dead in Mexico hurricane, as looting spirals: officials
Veracruz, Mexico (AFP) Sept 20, 2010 - Looters ransacked destroyed homes and businesses in eastern Mexico Monday after Hurricane Karl passed through, leaving at least 12 people dead and forcing 40,000 into shelters. "The Army and navy have been instructed to tighten security," President Felipe Calderon said after an overflight of the worst-hit areas of Veracruz. The storm roared ashore Friday, pummeling a country already reeling from one of its wettest seasons on record and leaving communities flooded from the border with the US state of Texas clear down to Mexico's Pacific coast states. "In total we have the death certificates of 12 people," Civil Defense force director Laura Gurza told a meeting assessing the damage caused by hurricane, the first of the 2010 Atlantic season to make landfall.

Calderon toured damaged areas in Veracruz on the Gulf coast, where at least seven people were killed and about 10 more remained missing, according to authorities. Karl forced the evacuation of oil rigs in the Gulf of Mexico and the shutdown of the country's nuclear power plant, located just four kilometers (three miles) from where the hurricane roared ashore. Among the dead were two men whose car was swept away by a flash flood in a river, a woman and her two children who drowned in their own home, and two people whose bodies were found washed up on a beach in the port of Veracruz.

Landslides also killed two women in central Puebla state, while one woman died and eight people were injured when a mudslide swept away a house in the southern state of Oaxaca. Authorities did not immediately say where the two other deaths occurred. Calderon inspected the flooding in several villages in Veracruz, whose governor Fidel Herrera said 112 of the 274 municipalities in the state remained under water. "The worst of this emergency is not even over yet," Herrera stressed. "We are facing a massive threat because it is still raining in mountainous areas, and that is going to raise water levels in about 20 different rivers."

Herrera said at least half a million people in Veracruz were affected in varying degrees by the hurricane. Some 40,000 people were evacuated to shelters. Looting of small businesses was reported in communities near Veracruz, with authorities detaining 11 people and ordering in extra security personnel to try to maintain order. Local media showed residents of many small towns making off with cases of beer, food and other goods apparently after snatching them from damaged stores. Major flooding earlier this month across Mexico left 25 people dead.
A hillside bloated by heavy rainfall in central Mexico collapsed Tuesday and buried part of a roadway, killing at least seven people and leaving 20 others missing, the mayor of Villa Guerrero said.

"We have seven confirmed dead and another 20 people unaccounted for," Tito Maya told a local broadcaster from the town some 60 kilometers (37 miles) from Mexico City.

Three people were wounded and taken to hospital.

The mayor said the landslide occurred early in the morning along a local road. Civil Defense rescue crews were clawing through dirt and debris in an effort to find people who might have been buried when the hill gave way, Maya said.

The force of the landslide dragged two vehicles into a ravine, including a passenger bus which had stopped so occupants could get out and remove debris that had tumbled into the road.

Hurricane Karl drenched much of eastern and southern Mexico with torrential rains late last week, causing flooding and landslides that killed at least 12 people and left thousands homeless.

Prior to Karl, intense flooding since late August across wide swathes of Mexico -- brought on by what authorities describe as the heaviest rains on record -- had left 25 people dead and affected about one million people.

earlier related report
280 crocodiles escape breeding facility after Mexico floods
Veracruz, Mexico (AFP) Sept 21, 2010 - Some 280 crocodiles escaped a breeding facility in the Mexican state of Veracruz officials said Tuesday, after weekend flooding following torrential rains from Hurricane Karl.

Veracruz's governor Fidel Herrera told reporters that the crocodiles were kept in an outdoor facility next to the port of Veracruz which bred the endangered reptiles in captivity.

The enclosure became submerged after the hurricane carried torrential rains, allowing the animals to escape.

Karl passed through Mexico over the weekend, leaving at least 12 people dead and forcing 40,000 into shelters as it pummeled a country already reeling from one of its wettest rainy seasons on record.

Residents of Veracruz were urged to be vigilant and to report any crocodile sightings to local authorities.